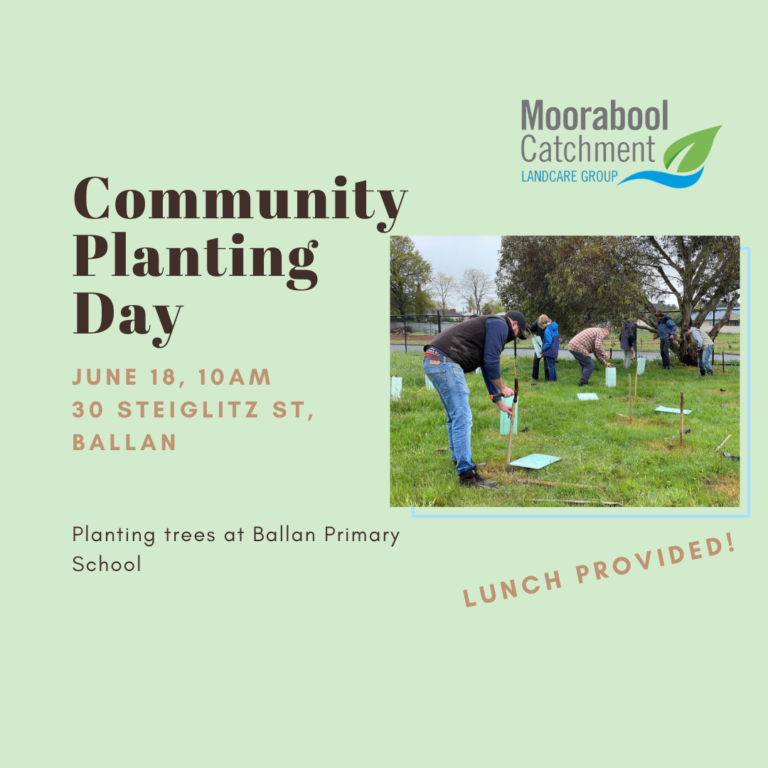 Ballan Primary School Planting Day
We are hosting a planting day Sunday June 18 from 10am and you're invited! Come along to this family friendly event and plant trees at Ballan Primary School that will forever change the school grounds. We will be increasing vegetation coverage, supporting native wildlife, and environmentally engaging students.
Contact us via email to register – [email protected]
Location: Ballan Primary School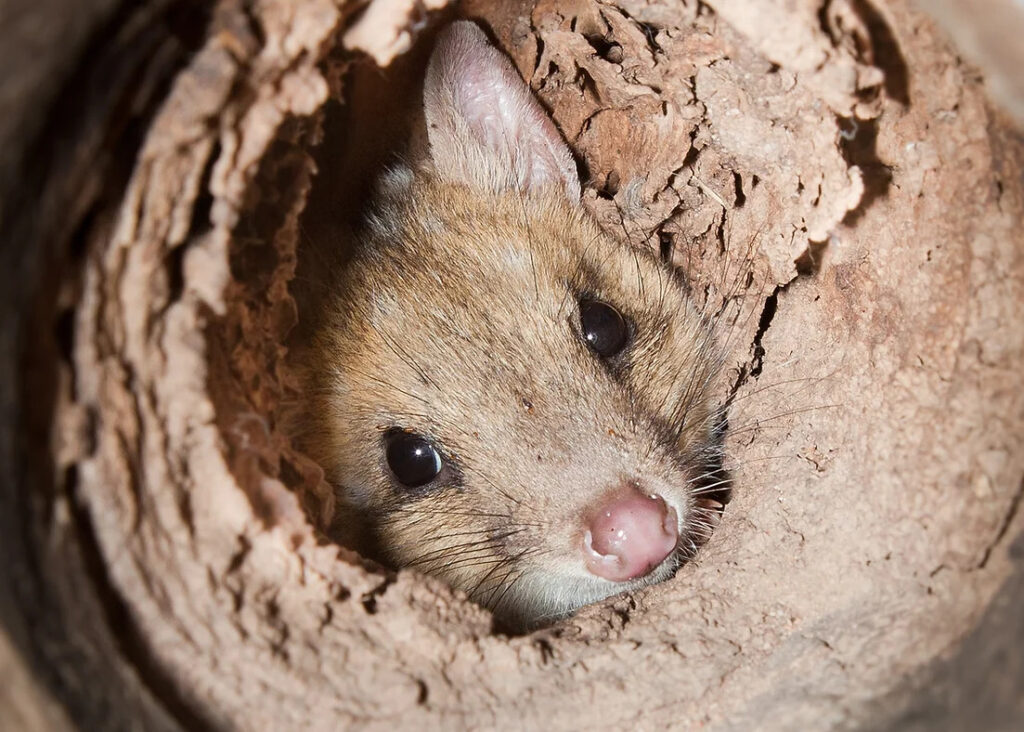 Mt Rothwell Spotlight Tour
Why not take a step back in time and discover some of Victoria's most threatened species thriving at Mt Rothwell? We have organised a private spotlight tour at Mt Rothwell, Victoria's largest feral predator-free sanctuary.
Contact us via email to register – [email protected]
Location: Mt Rothwell Interpretive Centre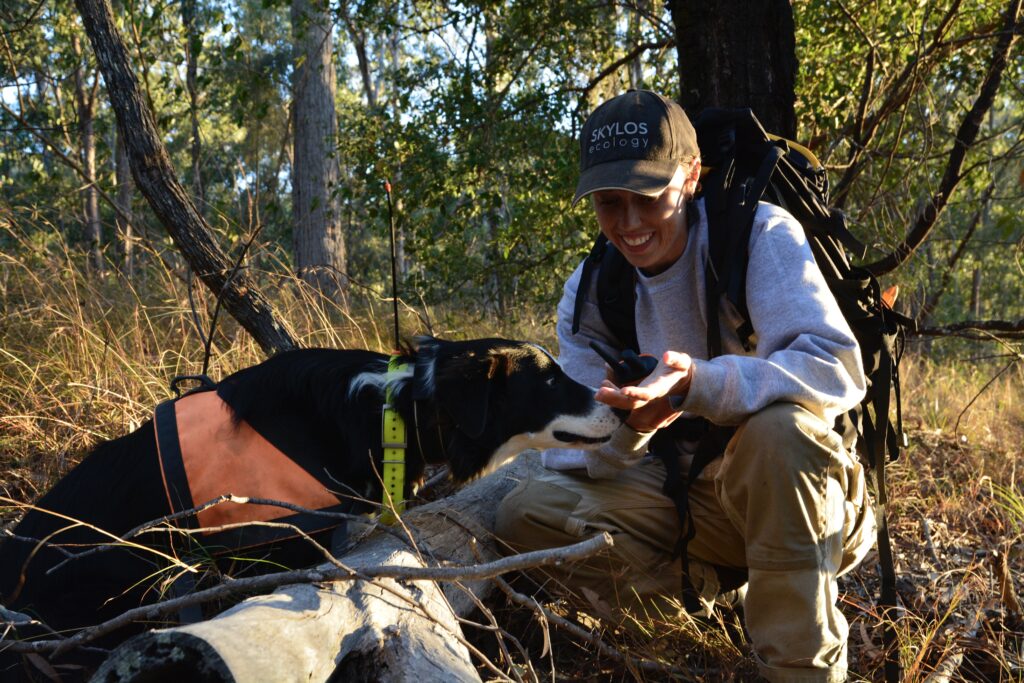 Conservation Dogs Workshop
Everything from invasive weeds to wildlife detection, there is a lot you can do with conservation dogs. Join us at the Mt Wallace Hall June 24 for a family friendly workshop delivered by Fiona Jackson from Skylos Ecology to learn more about conservation dogs and their many applications in managing our natural environment. And yes, there will be dogs.
Location: Mt Wallace Hall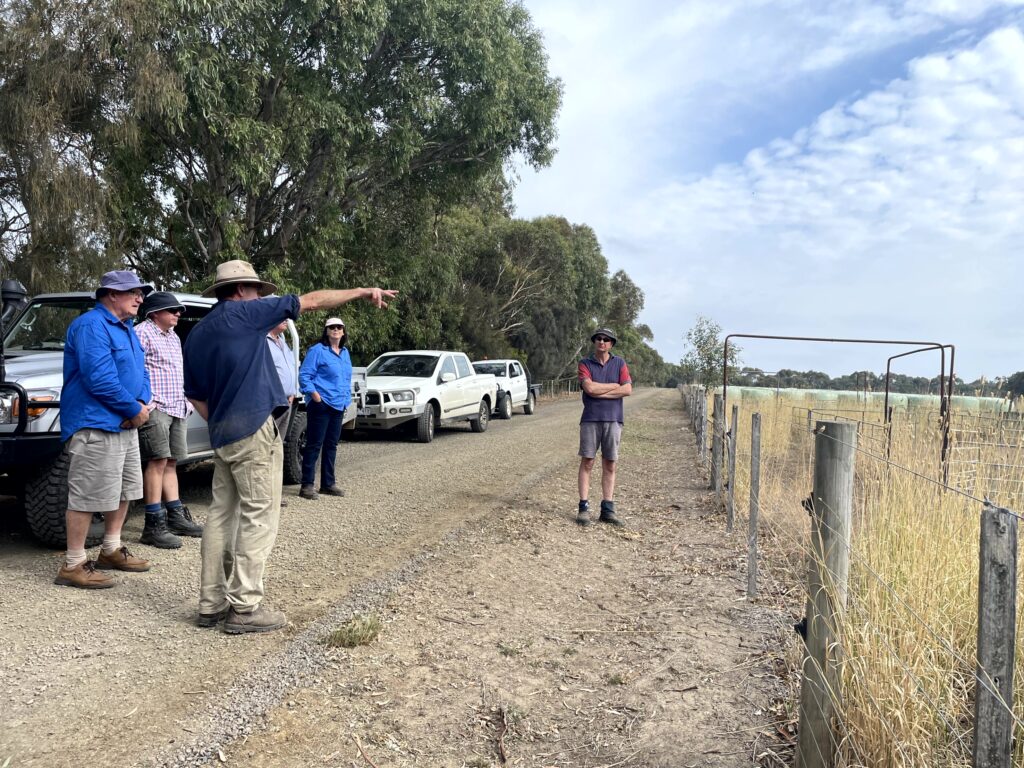 Producers Carbon Calculator Workshop with Cam Nicholson
Join us to learn how to calculate the amount of carbon emitted and captured on your farm. Following the Paris Climate Agreement, the agricultural industries and their supply chain are setting targets towards carbon neutrality. This course has been put together due to significant demand from the Australian agricultural industries and the banking sector, following most multinational agribusiness companies and financiers setting carbon reduction targets for their supply chain in response to international agreements.
Location: Ballan & District Community House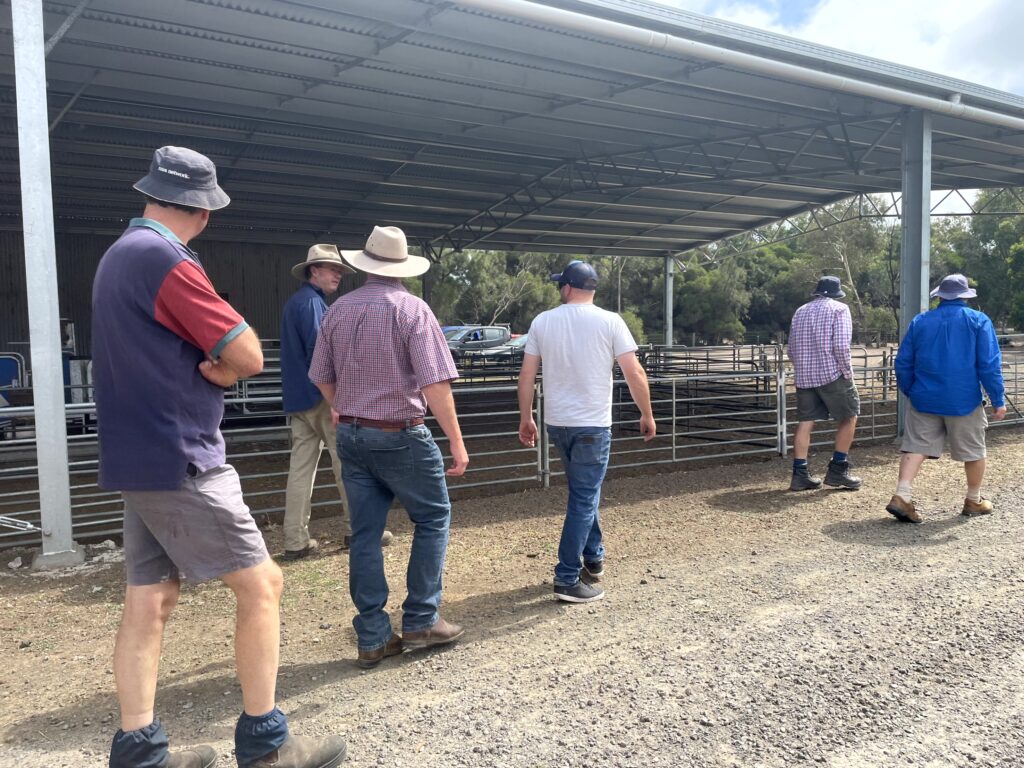 Knewleave Partnership Farm Visit
This practical field day is an opportunity for local producers to learn from industry professionals Fiona Conroy and Cam Nicholson of Knewleave Partnership about their journey managing their property to become carbon neutral and how they have been capturing operational data for over 20 years.
Location: Knewleave Partnership - Bellarine Peninsula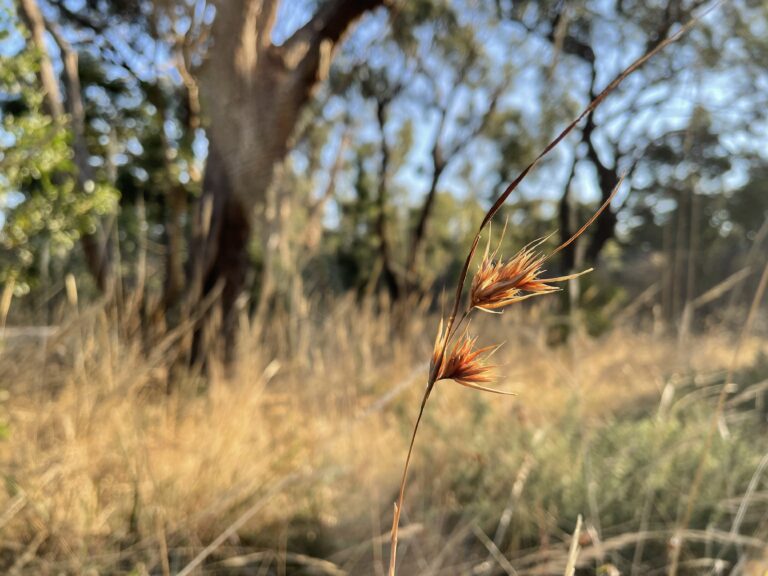 Native Grasslands Identification Workshop
Join us as we dive into the world of native grasslands. Our guest speaker Frank Carland has a wealth of knowledge to draw on from a long career in native vegetation management, particularly with native grasslands. 
In this session we will discuss the values and threats of native grasslands, have a plant identification workshop (including the opportunity to bring samples from your property), and discuss the management of grasslands. 
Location: Ballan & District Community House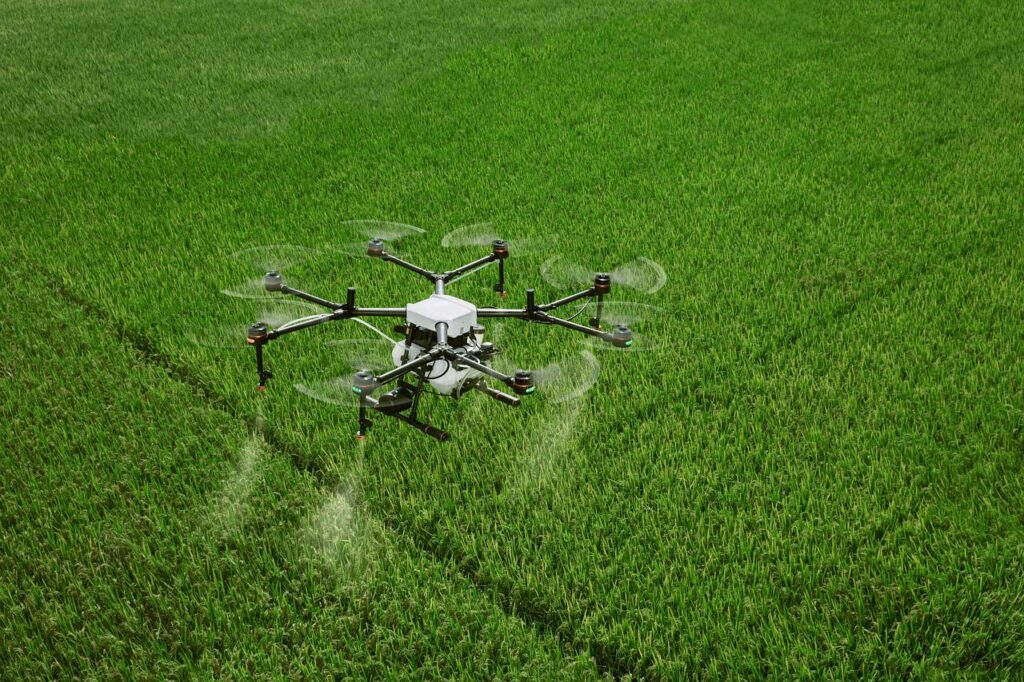 Farm Tech Planning Workshop
This interactive workshop provides a great opportunity to learn and refine how to think, relate, implement & benefit from the use of technology on farm. We will also walk through the process of developing a personalised plan on achieving improvements in productivity and efficiency using what resources you have now & identify where technology can fill the gaps. 
Location: Meredith Interpretive Centre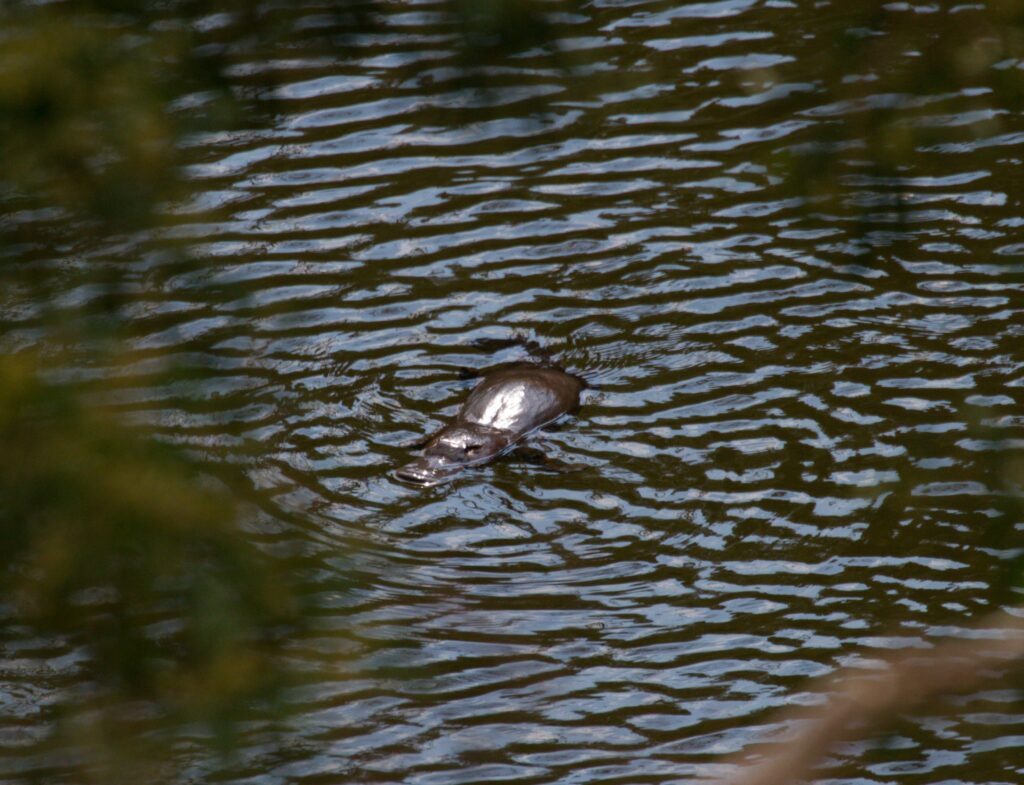 We are hosting a community planting day on the East Moorabool River to protect and enhance critical Platypus habitat and discuss the threats and conservation of this iconic Australian animal.
Location: Ballan Mechanics Institute + Bostock Reservoir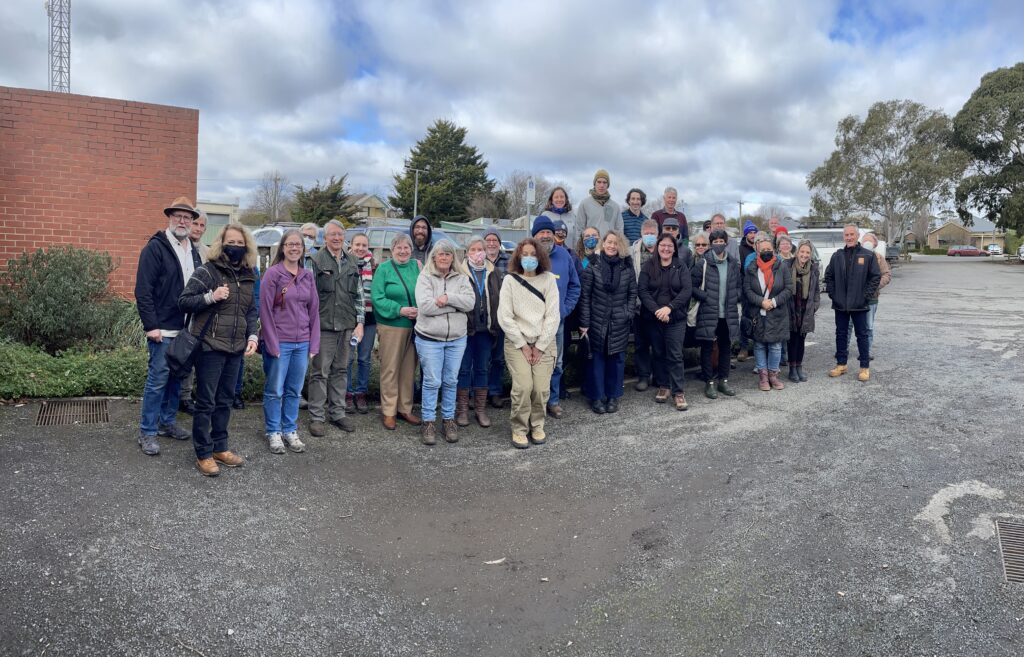 Moorabool Koala Count Co-Design Workshop
After the successful implementation of the pilot Koala Monitoring program in February 2022, we are now looking to expand the project and are hosting a workshop to discuss how we will roll out the program, and how you can be involved.
Location: Ballan Mechanics Institute + Bostock Reservoir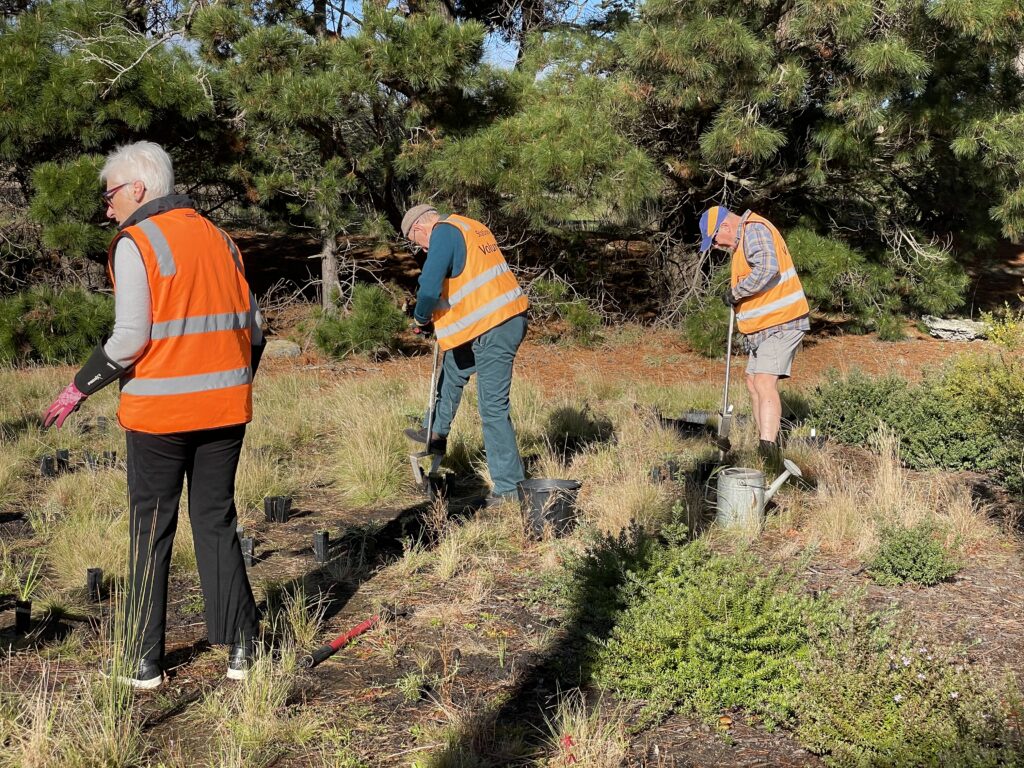 Ballan Stationeers Community Planting Day
Working with the Ballan Stationeers we planted a variety of native grasses, herbs, and wildflowers at the Ballan Railway Station. These would have once occurred naturally in the area but have been removed from the landscape due to a number of environmental pressures since colonisation. This project was supported by the Moorabool Wind Farm.
Location: Ballan Railway Station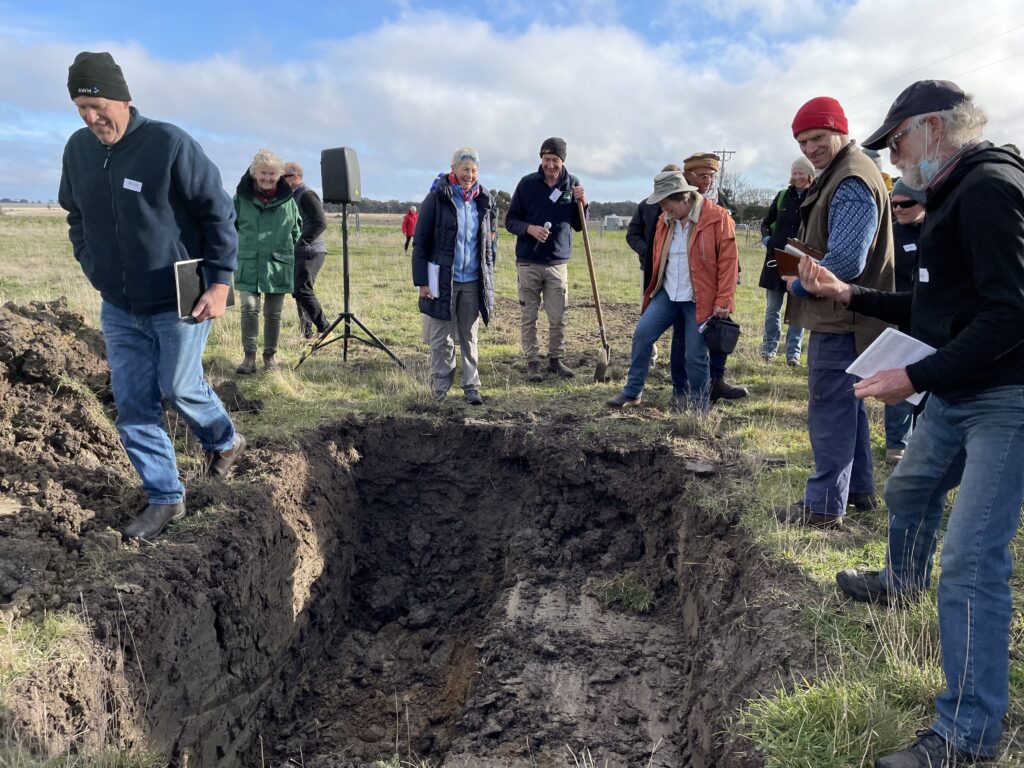 Dr Christine Jones Soil Biology Workshop
Renowned soil biologist Dr Christine Jones joined us in the Moorabool region for a deep dive into activating biological pathways to improve soil structure, nutrient status, and moisture retention. This project was supported by Corangamite CMA, through funding from the Australian Government's National Landcare Program.
'Bacc Chat' - Citizen Science Presentation
MCLG coordinator Jackson Cass will be delivering a presentation on Citizen Science at the Lerderderg Library in Bacchus Marsh. There are so many ways we can connect with nature, and so many ways we can contribute to the well being of our native flora and fauna. Collecting data doesn't need to be complicated, anyone can do it with just their phone.
Location: Bacchus Marsh Library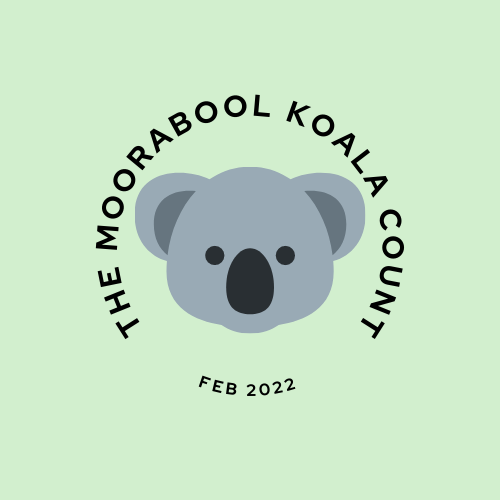 Community event to celebrate the contribution of collaborators and volunteers towards the conservation of our local Koala populations. Guest Speakers Janine Duffy (Koala Clancy Foundation President) will be discussing Koala conservation and ecology. While CSIRO representatives will be present to discuss the monitoring techniques employed in the National Koala Monitoring Program
Location: Bostock Reservoir Picnic Ground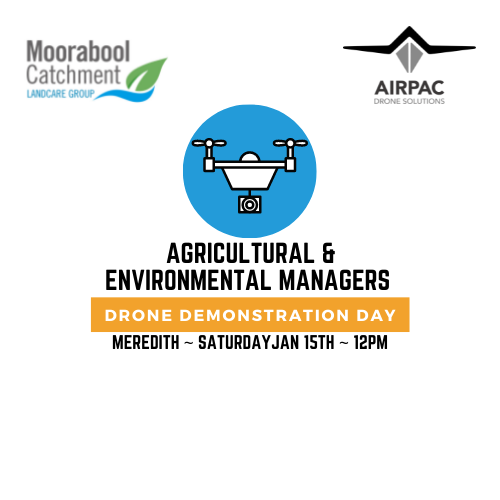 Showcasing the use of drone technology to control noxious weeds for the first time ever in the Moorabool region. Please join us at this family friendly event.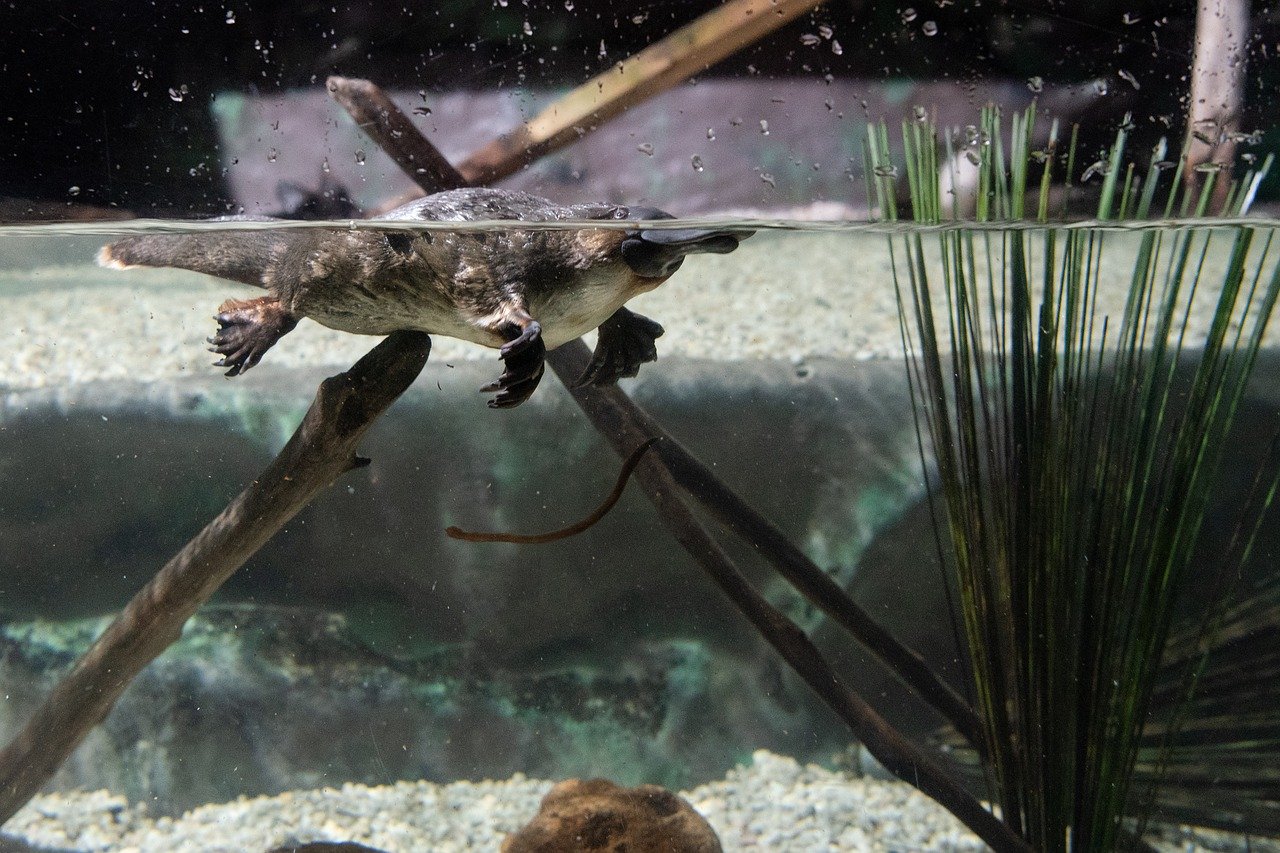 The Great Australian Platypus Search
Odanata and DELWP have partnered to deliver the largest Platypus survey ever conducted, testing over 2,000 sites across Victoria. Several of these sites occur in the Moorabool region and Landcare will be participating in these surveys. More information on this massive project can be found here.
Location: Moorabool Catchment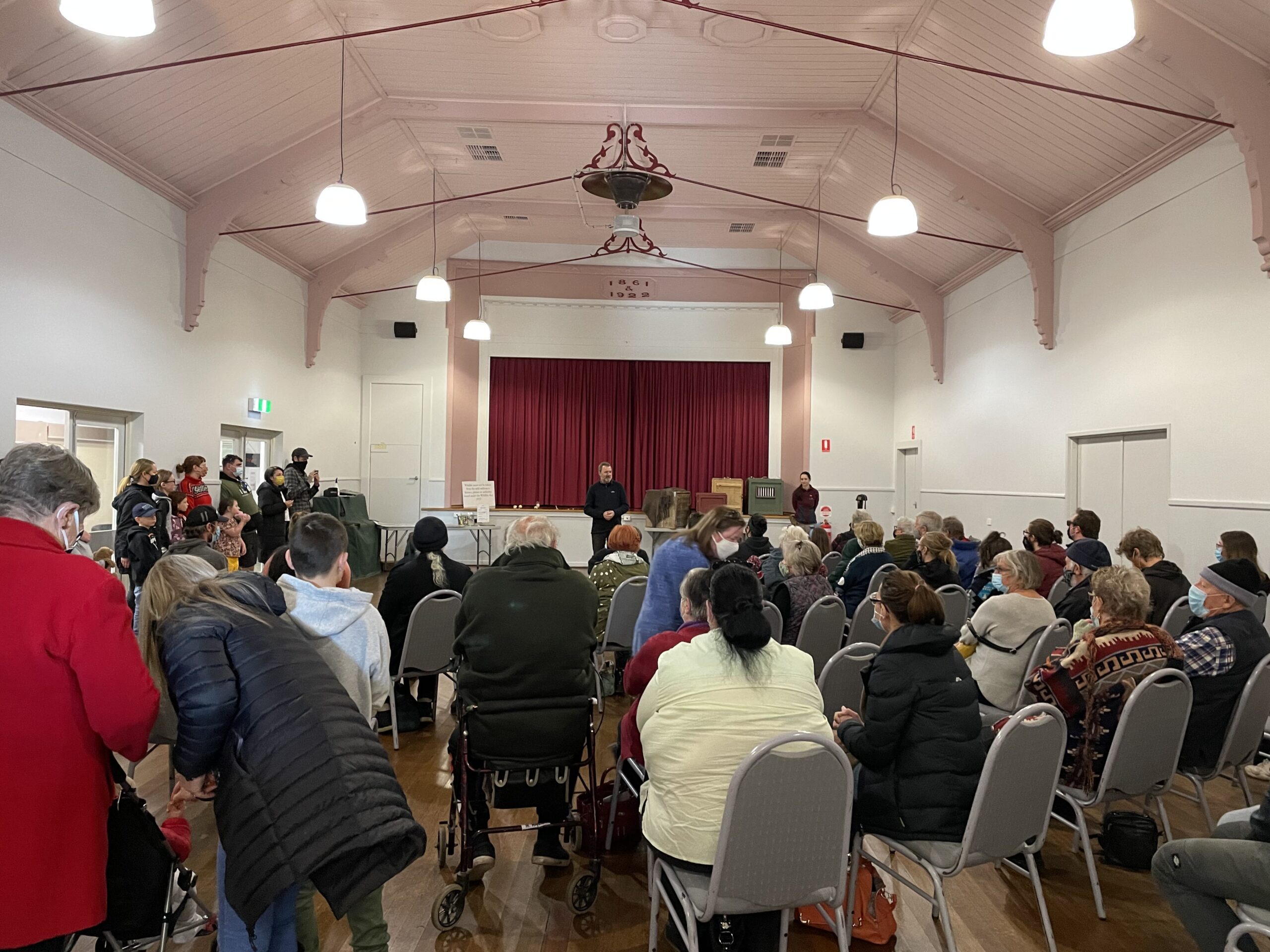 Birds of Prey Demonstration
Presented by Moorabool Catchment Landcare Group and Gardens for Wildlife Moorabool, in collaboration with Wombat Regional Arts Network. The sold out venue enjoyed the display of Barking Owls, Kestrels, and even a Wedge-tailed Eagle. Courtesy of Leigh Valley Hawk & Owl Sanctuary.
Location: Ballan Mechanics Institute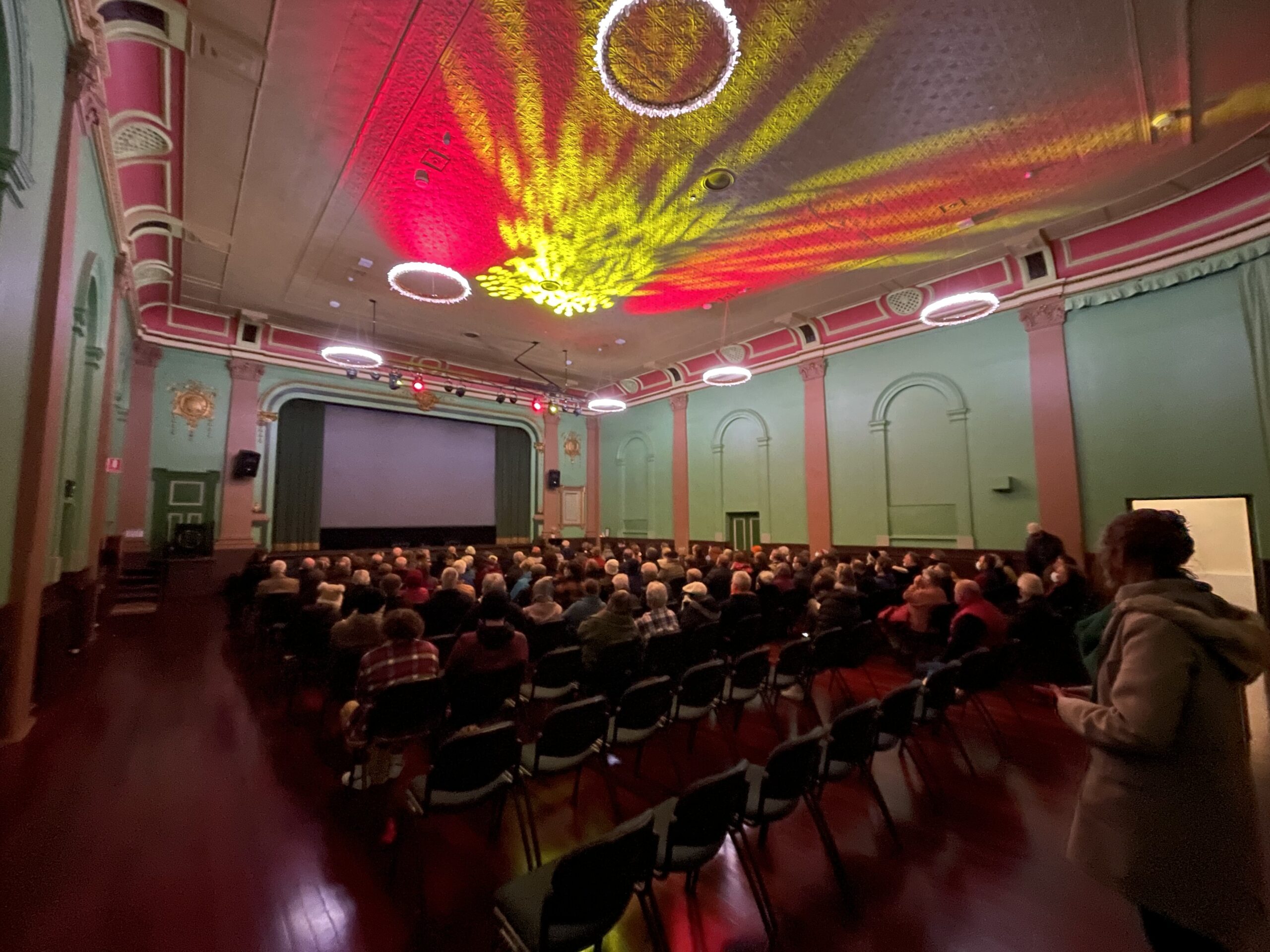 The River Moorabool Film Launch
The River Moorabool is an advocacy film explaining with the unique Moorabool River, travelling from the Wombat Forest near Ballarat to the Barwon River at Geelong is in trouble. This film was made by 'People for A Living Moorabool' and 'Sheoaks Films'.
Location: Ballarat Mechanics Institute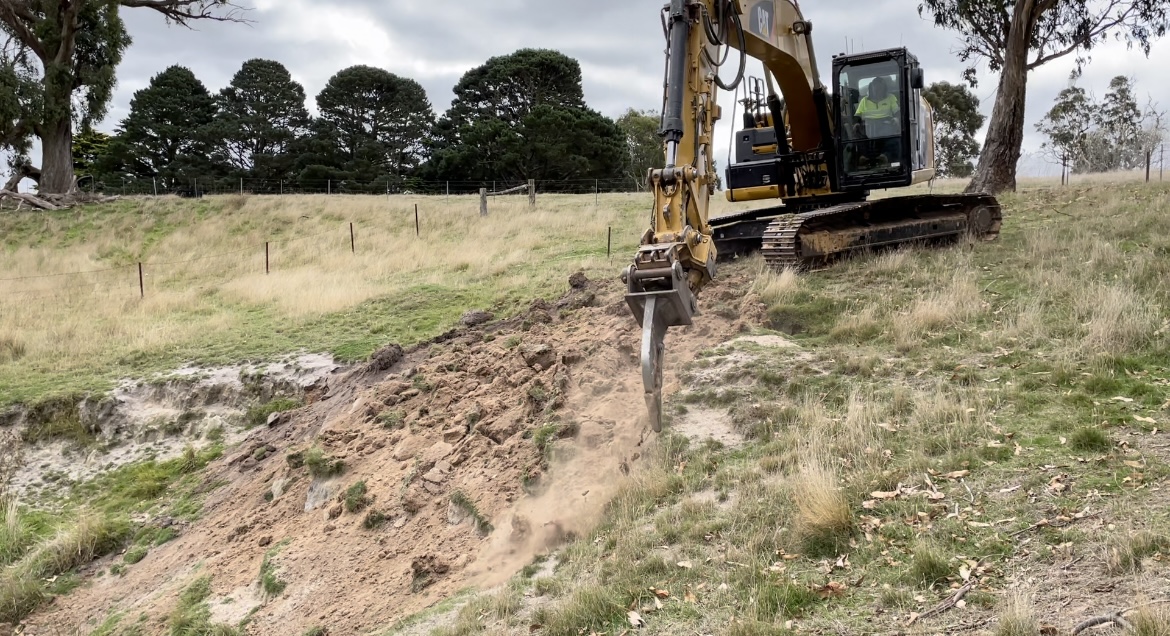 VRAN Rabbit Control Demonstration Day
Funded by the Victorian Rabbit Action Network (VRAN) we gave a demonstration of warren ripping and fumigation. Discussion and resources of best practice management was also shared. 
Location: Ballan-Egerton Road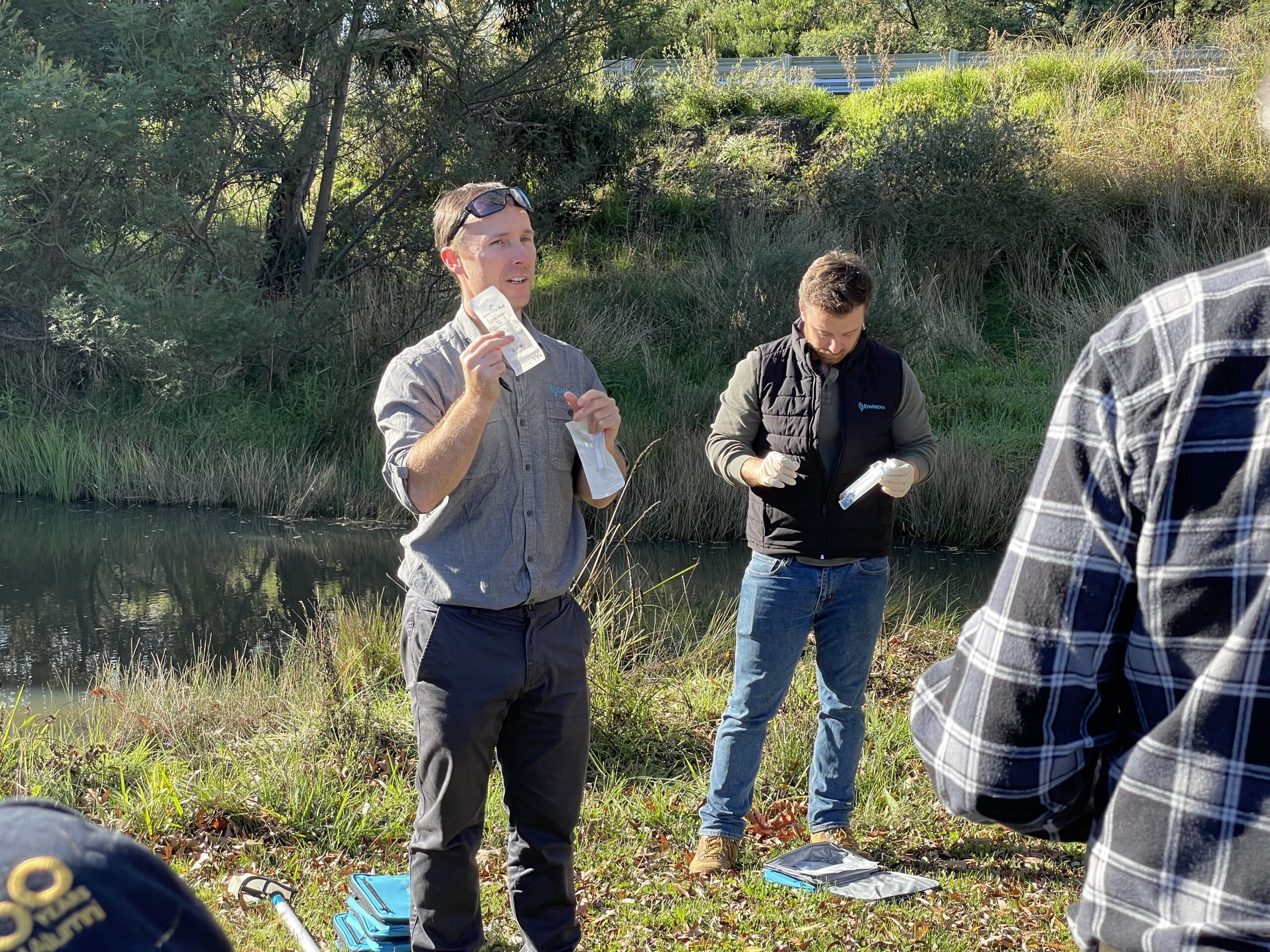 Volunteers took water samples from 18 sites in the Moorabool Catchment. Using exciting new technology known as EnviroDNA or eDNA, these water samples were tested for Platypus DNA fragments to tell us the abundance and distribution of Platypus in the Moorabool River systems.
Want to attend our next event?